Failed Plans?
Yeah I know what that feels like. In fact, disappointment and discouragement hit me so hard that I didn't get out of bed until 3pm. This isn't like me, I'm an early riser, who hops in the shower and makes breakfast every morning, while singing. (Sounds like a Disney princess, minus the talking to animals weirdness)
I felt like I just wanted to stay there forever and wallow in self-pity and seethe with anger. You see, God had instructed me to do something and I followed him. Even though it's been a scary journey. Even though I've wanted to back out numerous times, because it makes me uncomfortable. But I did it anyway, believing that God would meet me on the other side of my obedience. And I felt like I was on the last leg of my journey and now things are getting increasingly more impossible. Victory looks very, very bleak, and defeat looks just about certain. Every scenario of this turning around for my good seems very farfetched.
Worse? I am exhausted. I feel drained. Physically, emotionally, even spiritually. How much more does God expect me to believe when I feel like he's brought me this far and he's letting me down? I felt abandoned.
And so I cocooned myself in bed, slept for hours on end, even when I knew I didn't really need anymore sleep. Cause sleeping felt better than waking up to fight another day. This is real. This is life. These are FACTS.
But is it truth?
Truth is that God has promised numerous times to never leave nor forsake me. (Deut 31:6, Heb 13:5)
Truth is that God has promised that if I put my trust in him, he will never put me to shame. (Psalm 25:3, Isaiah 49:23, Romans 10:11)
Truth is that God always makes situations harder when he's in them. It's his old fashioned signature. He let Abraham and Sarah get even older, Pharaoh more stubborn, told the Israelites to march around a wall instead of attack, made a 17 year old fight a giant, reduced an army to 300 men to fight over 100,000 soldiers, and told Elijah to pour water on the altar that was supposed to catch on fire. These were ordinary people like you and me who were put through the wringer, but who saw the glory of God.
Truth is the more my situation is out of my control is the more glory God will receive from it.
And yes, just like Tamela Mann said, "Truth is I'm tired, options are few, I'm trying to pray, but where are you?" (did ya'll think I could do this whole thing without cracking a joke?)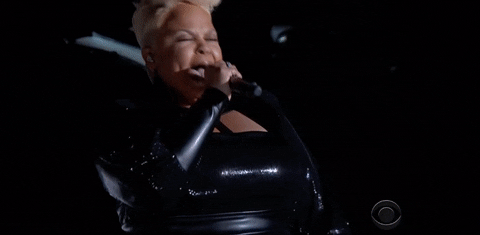 Christians do get sad, sometimes depressed too. But we don't stay sad or depressed (not referring to clinical depression caused by chemical changes in the brain…although God can heal that too).
We don't stay sad because we serve the God that created joy, hope, faith, and peace. He is the embodiment of those things, and the Holy Spirit inside of us will always remind us who God is when our circumstances and our hearts tell us God has failed us.
He's never failed and never will.
So here's what I did. I remembered the truth about God, that it's not in his nature to abort mission. He cannot lie. My feelings wrestled with that. Sometimes it's ok to wrestle with God. He'll always show you who you are in the process. But, the truth of God's word, the embodiment of truth himself, Jesus Christ, is stronger than my feelings and my arguments.
I got out of my bed. Wrote this blog, headed to the shower and sang praises and thanks to God for the victory I'm experiencing now cause maybe I need to embrace it a bit longer with my spiritual eyes before I see it with my physical ones.
I would have despaired unless I had believed that I would see the goodness of the Lord In the land of the living. Wait for the Lord; Be strong and let your heart take courage; Yes, wait for the Lord. (Psalm 27:13-14)